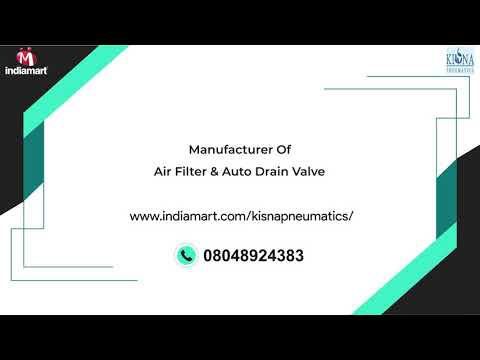 KISNA Pneumatics - India's leading Pneumatic Manufacturers in Coimbatore. The Company Offers Air Filters, Auto Drain Valves, Industrial Pneumatic tools, Spare Parts & fittings at best price.
Company Type: Manufacturer
We are searching for: New Product Lines, Wholesalers
Johari Digital Healthcare designs, develops, engineers and produces electronic medical devices to be distributed worldwide.

Johari Digital is one of the first MDSAP and US FDA certified GMP audited manufacturing company in India. It is first company to get US FDA clearance for their electro medicine device in 1986 and further continued to get more than 15 products FDA certified for professionals in physical therapy and medical aesthetic, sports medicine and neuro-rehab.
Company Type: OEM Manufacturer
NAICS Codes: Surgical and Medical Instrument Manufacturing (339112)

We are searching for: Manufacturers, Manufacturers that require representation, Industrial Distributors, Sources of Supply, Traders/Importers/Exporters
We focus on prototype and short run quantities of miniature to medium size zinc alloy and aluminum castings. Our unique casting processes allow us to cast very complex, and often extremely thin-walled parts. The more complex your part, the more we excel.

We have over 40 years of experience producing functional prototype and low volume castings. We utilize state of the art 3D technology. We work with all size companies, in many different industries.

We are able to go from 3D file to castings with all in-house technology. First samples are usually available in 2-4 days. General lead time is 1-3 weeks, depending on quantity and size of parts. First samples and partials are at no additional charge. By providing first sample, you are able to make adjustments to design prior to job completion.

We are able to offer assistance throughout your project development. We are familiar with die-casting production requirements and can help detect and avoid costly changes.
Company Type: Manufacturer, Custom Manufacturer
NAICS Codes: Rubber Product Manufacturing for Mechanical Use (326291)
All Other Rubber Product Manufacturing (326299)
Nonferrous Metal Die-Casting Foundries (331523)
Aluminum Foundries (except Die-Casting) (331524)

SIC Codes: "Fabricated Rubber Products, Nec" (3069)
Aluminum Foundries (3365)
"Nonferrous Foundries, Nec" (3369)

We are searching for: Sources of Supply, Manufacturer Reps
More than just fasteners
Stafa stands for a wide range of fasteners and custom-made components . Quality and reliability of supply go hand in hand in this respect. As a supplier we guarantee reliable delivery; as a partner we give our customers complete peace of mind by providing surface treatments, assembly services, packaging solutions and logistics supply options. Discover what Stafa can mean to your business.
Company Type: Manufacturer
NAICS Codes: "Bolt, Nut, Screw, Rivet, and Washer Manufacturing " (332722)
"Fastener, Button, Needle, and Pin Manufacturing " (339993)

SIC Codes: "Bolts, Nuts, Rivets, and Washers" (3452)
"Fasteners, Buttons, Needles, and Pins" (3965)

We are searching for: Industrial Distributors, Wholesalers, Manufacturer Reps, Traders/Importers/Exporters, Retailers
Permanent Steel Manufacturing Co.,Ltd
has been committed to being a major supplier of quality kinds of carbon steel pipe, stainless steel tube, hollow section, numerous types of piping equipments including Bend, Cap, Coupling, Elbow, Reducer, Stub End, Tee, Olet, Joint, Gasket, etc. As a factory,which specializing in the production, processing and sales of various steel pipes and pipe fittings size enterprises, headquartered in Hunan, the production base is located in Shandong and Tianjin. So far, the facility occupies more than 228,000 square feet under roof and includes two working mills and quality assurance chemical- and strength-testing laboratories on site and located on a 2,000-acre site with more than 60 acres under roof, is home to one of the world's largest cupolas; and the Contiarc, the first-of-its-kind continuous arc furnace.Our company has imported the advanced productive equipment and the inspection equipment, we will do the UT
Company Type: Manufacturer
We are searching for: Manufacturers
Scantek is the most relied on Design & Engineering Company that enables 3D measurement, lidar, and also reality capture technology.
Our firm establishes and also allows leading edge lidar solutions that allow for high-precision 3D capture, measurement and also evaluation throughout a selection of markets; consisting of manufacturing, construction, engineering and also public safety and security.

With over two decades of emphasis, dedication and unrivaled experience, we lead the market in specializing in Reality Capture and also AEC Technology Advancement.
In addition to working very closely with all our clients to customize the services we give, our knowledgeable team of experts will certainly supply the finest quality results for all your jobs requirements.
We consider our unsurpassed experience as well as sector understanding key consider our longstanding success.

Our group likewise supplies reliable solutions for evaluation, project management, and also quality manageme
Company Type: Manufacturer
Manufacturing adhesives for commercial applications
The adhesive requirements of commercial manufacturers can change from business to business, depending on the size and scope of each individual project. Chemique delivers a complete line of adhesives and sealants designed to meet and exceed the highest in production standards.
Adhesives commonly used in manufacturing applications
Cyanoacrylates: Strong and resilient adhesives used in industrial applications where rapid bonding is needed. Ideal for bonding porous or acidic surfaces in a range of materials like plastics, paper, rubber and leather. View our Axil range of cyanoacrylates here.
Polyurethanes: Fast-curing and robust bonding solutions used in a wide variety of applications. Polyurethanes are ideal for the construction and automotive industries due to their resilience and elastic properties. View our Solfre range of polyurethanes here.
Water Based and Solvent Based adhesives: Offering flexible application methods, this vast range includes flammable and non-flammable formulas covering virtually all industrial applications from general assembly to large scale continuous manufacturing facilities.
Solvent-Free: An extremely versatile range of adhesives that offer excellent chemical and moisture resistance. This polyurethane adhesive is available in both one and two component formulas making it ideal for panel lamination, that uses both insulation and honeycomb core materials. View our Solfre range of solvent-free adhesives here.
Unsure which adhesive is right for your application? Our technical experts will point you in the right direction.

Commercial Manufacturing markets we serve are:
Acoustics
Display Equipment
Electronic Assembly
Equestrian
Fibreglass Fabrication
Flight Cases
Rubber Conversion
Why Choose Chemique Adhesives?
With over 30 years of adhesive manufacturing expertise you can rest assured that Chemique has a solution to your bonding needs. With our Total Service Package, Chemique guarantees you get the right product, the right application equipment, and the right after sales service to help streamline your business.
Chemique's Total Service Package includes:
Tailor-made adhesive and sealant solutions
Rigorous quality control, full engineering, and technical support
Product demonstrations, samples, and comprehensive training
A full range of application equipment and after sales support
Company Type: Manufacturer
NAICS Codes: Adhesive Manufacturing (325520)

SIC Codes: Adhesives and Sealants (2891)

We are searching for: Industrial Distributors, Wholesalers, Manufacturer Reps, Retailers
Established in 1992, Superior Joining Technologies, Inc is an AS9100 registered manufacturing firm specializing in Micro-TIG and Micro-Laser welding, laser beam welding, 3D Multi-axis Laser cutting, CNC Machining, Fluorescent Dye Penetrant, Magnetic Particle Inspection, and more. We proudly serve any industry that needs that level of expertise and documentation, most notably aerospace.
Company Type: Manufacturer, Custom Manufacturer
We are searching for: Wholesalers, Manufacturer Reps, Service Companies, Finishing Services Companies, Systems Integrators, Traders/Importers/Exporters, Retailers
Product Range
Proquip brings only the absolute best leading international brands sourced from leading commercial and industrial-grade manufacturers. With Proquip solutions comes the peace of mind that you are making use of branded products that represent the very best in design, innovation, and manufacturing quality which all products are proven internationally.
Commercial Vacuum Cleaners
Proquip stocks a large range of commercial-grade vacuum cleaners to match a wide range of commercial cleaning goals. From wet and dry vacuums to battery-powered cordless vacuums and HEPA filter vacuum cleaners, Proquip has got you covered. Our range consists of commercial backpack vacuum cleaners which offer high productivity, they are also lightweight and easy to use.
Company Type: Manufacturer
NAICS Codes: Other Electronic Component Manufacturing (334419)
Small Electrical Appliance Manufacturing (335210)

SIC Codes: "Household Appliances, Nec" (3639)

Current Export Regions: Asia
We want to export to: Africa, Europe, European Union, South America, Middle East, North America
We are searching for: Industrial Distributors, Wholesalers, Manufacturer Reps, Traders/Importers/Exporters, Retailers
BAUSS Manufacturing is a Murrieta, California-based trailer manufacturer, van conversion and fabrication facility. A+ rated by the Better Business Bureau and USMC-veteran owned. We specialize in the design and building of campers, campervans, toy haulers and custom trailers. We strive to push the envelope of design and innovation in the RV industry by redefining what the "standard" is. Also specializing in custom mobile restroom manufacturing for on-site services for corporate and government clients in Southern California and across the nation. Customers include CalTrans and the California State Department of Fish and Game. If you have specialized needs and would like a tailored solution, reach out for a consultation.
Company Type: Custom Manufacturer
Cable Assemblies
Cable Assemblies Manufacturer
Providing solutions for custom cable assembly to meet customers demands and specifications.
Highly Integrated Contract Manufacturer for Electronic Services

STAR ENGINEERING, INC is a trusted electronic contract manufacturing company, dedicated to manufacturing and assembly solutions, assisting its customers with quality and consistency for a wide range of projects. Our services range from wire, cable and harness assemblies, all levels of electronic Printed Circuit Board Assemblies, through the most complex integrated solutions for complete electronic instrumentation and box-builds. Strong and multi-faceted, the Manufacturing Engineering group supported by the Supply Chain Management system is successfully providing "turnkey" services for any type of project or where it makes sense for our customers and us, we can operate with customer supplied materials.

Our Engineering and Quality teams are creating manufacturing documentation by configuring the most appropriate manufacturing processes and tools. They are testing products to the customer's specifications or if required, develop our own solutions for calibration, test and other functional pre-ship operations.

Star Engineering Quality Management System is ISO 9001-2015 certified, IPC-610 and IPC-620 compliant. Our Management, Engineering, Quality and Manufacturing teams are devoted to delivering products that meet or exceed customer expectations on-time, every-time.
PCB Assembly Services

Star Engineering is one of the renowned electronic contract manufacturing companies, provides high quality printed circuit board fabrication and turnkey assembly services based in USA. Since 1980 we have been a leader in providing printed circuit boards, cable assemblies, SMT assemblies to OEMs serving a wide range of industries. We focus on customer satisfaction and aim to provide the best quality and latest products to our customers.

Printed Circuit Board Assemblies
Star Engineering is a full-service electronic contract manufacturer of printed circuit board assemblies and printed circuit board fabrication, providing complete solutions for all types of requirements. Our services include designing, testing, prototyping and manufacturing followed by complete support. We provide both surface mount (SMT assemblies) and through hole assemblies apart from any custom requirements of your processes. We also have years of experience in board manufacturing.
Cable and Harness Assemblies

Star Engineering manufacturers cable assembly based on customer requirements, right from prototyping to production. Our wide range of cable assemblies include electronic cable assemblies, IDC flat ribbon cable assemblies, multi-conductor cable assemblies, coaxial cable assemblies, battery cable assemblies, wire jumpers, military and medical assemblies.

Electromechanical Assemblies
Star Engineering provides Electromechanical Assemblies (box builds) that includes Documentation Review and Development, Custom inventory management service, Inspection, calibration and function testing per customer specification, Custom labeling, packaging and shipping to stock or to end user, Full builds to order electromechanical assembly capability, Energy management systems, & Completed product, shipped as if it came from the customers warehouse.

The Star Engineering Advantage
Flexible Lean Manufacturing
Vendor Managed Inventories
Program Management
Quick turn and prototype services
Cross trained workforce for maximum flexibility
Safety Stock programs
Kanban and JIT programs
Our Products
Printed Circuit Board Assemblies
Cable Assemblies
Electrical Wiring Harnesses
Electromechanical Assemblies

PCB Markets
As a leading PCB manufacturing company in the USA, we build circuit boards for aerospace, commercial industries, automotive, marine and medical markets. Printed circuit board companies help in the design, development, and sale of printed circuit materials.
If you require circuit board manufacturers or printed circuit board manufacturers, get in touch with our PCB specialists team, and we would be happy to help.

Address
Star Engineering, Inc.
One Vaillancourt Drive,
North Attleboro, MA-02763
508-316-1492
info@starengineeringinc.com
Company Type: Manufacturer
NAICS Codes: Printed Circuit Assembly (Electronic Assembly) Manufacturing (334418)
Other Electronic Component Manufacturing (334419)

SIC Codes: "Electronic Components, Nec" (3679)

Current Export Regions: North America
We want to export to: Worldwide
We are searching for: Industrial Distributors, New Product Lines, Wholesalers, Manufacturer Reps, Traders/Importers/Exporters
​​​​​​​